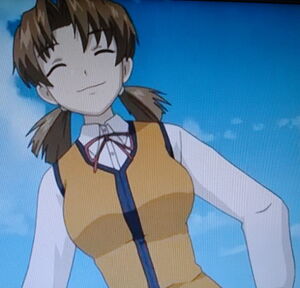 Suzuharu Chihaya is a regular supporting character in the animanga series Tona-Gura!. Chihaya is the best friend of Arisaka Kazuki , though this often comes through in the form of playful teasing on all manner of subjects. Be it school, Kazuki's beautiful and wildly popular older sister Hatsune, or, most recently, her trying relationship with her returned childhood crush Kagura Yuuji, Chihaya will invariably play Rhoda to Kazuki's Mary, which is to say, she will playfully tease her and nudge her into choices she would have made anyway. Kazuki, however, is not the only target of her guidance and teasing. Besides Yuuji's initial inept mishandling of his relationship with Kazuki, Chihaya loves to tease him about the crush that underaged and over-endowed Isokawa Nina sports on him.
Unlike her more uptight friend, Chihaya has little problem with the extremes of Yuuji's behavior, even encouraging him by doing things like flashing her underwear at him. She has also been known to grab some amusement by telling Yuuji that its safe to enter Kazuki's room in the morning, only for him to find Kazuki isn't quite dressed yet, getting him punished not only by Kazuki but by his paint-ball firing, 'ecchi-hating' little sister Marie.
Chihaya will also try to give the thick-headed Yuuji advice on how to win Kazuki, some instances to better effect than others, and has plaved peacemaker when the two seemed on the verge of ending any association at all. Though she has teased Kazuki that she herself might have an eye on Yuuji, even she sees his most extreme antics as a bit off-putting, and has quietly called him an idiot (In a nice way). So while she is a solid friend to both would-be young lovers, Chihaya is not above making Kazuki think she has a rival for Yuuji, and she is not above making Yuuji think that she herself is a rival to him for Kazuki. Like the other ladies, she supports Yuuji's later ambitions to become a professional photographer, but strongly dislikes Yuuji's photgraphy boss Tojo Haya (who is to pushy intrusiveness what Yuuji is/was to grabby harassment).