Max



Name

Max

Age

7

Gender

Male

Friends

Ash Ketchum, Brock

Family

May

Voice acter(s) USA

No information

First appearance

There's no Place Like Hoenn
Max is a character from the Pokemon Anime. he is May's little brother.
History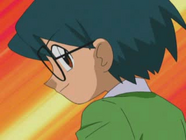 Max is somewhat of a know-it-all, relying mostly on book smarts than actual experience. but he likes to think of himself as a genius. he lives in Petalburg City. Max also took
Misty
's bit for yanking
Brock 
by the ear whenever Brock sees a pretty woman or girl. Max also frequently shows tension between him and his older sister
May
, such as telling embarrassing stories about her to others or arguing with her about the way she does certain things.
Max is one of the only people who knows about Ash before meeting him. Max watched the Silver Conference live and then continually watched the videos he made of it. When he stopped to find out who was making noise in the gym, he was surprised to see one of the competitors standing in the Gym. However, the two did not get off to a good start as Max continued to put Ash down, assuming that he could have defeated Harrison. After seeing Ash battle Norman, however, Max became impressed with Ash and soon decided to travel with him and May.
Friendships
May is Max's big sister who gets annoyed by how much he knows about Pokemon.
Gallery
Trivia