Misty



Name

Misty

Age

12

Gender

Female

Misty is from the Pokemon Anime series. She is a good friend of Ash.
History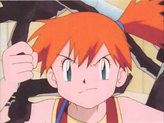 A tomboy who is the youngst of her family and lives in the Cerulean Gym. Fed up with her more glamorous older sisters, Misty left the gym and wanted to become a Pokemon master water trainer. she met
Ash
when she "caught"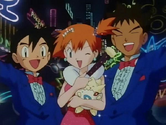 him with her fishing line in a river. She traveled around with him,
Brock and
Tracey through Kanto, Orange islands and Johto.
Her reason for following him was she wanted him to replace her bicycle, what had been destroyed by Ash's Pikachu when they first met. However, Misty often seemed to have forgotten about the bicycle, indicating that her real reason for following along was that she simply wanted to remain with her friends.
Pokemon
Relationships
Gallery
Trivia
Misty may have a crush on Ash.