N



Name

N

Age

15 or 17

Gender

Male
N (エヌ N ) is a character from the Pokemon Series. he is the Leader of Team Plasma.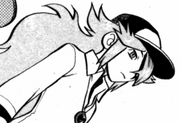 N was forced by his father,
Ghetsis
, to live among Pokemon that were abused by humans. N grew to be resentful towards humans, which was his father's plan. N believes that he is the legendary "Hero" of the Unova region. Because of his close relationship to Pokemon, N can understand their thoughts.
You're looking for Team Plasma, right? They ran into the amusement park. Come with me. They're not here. Let's ride the Ferris Wheel and see if we can spot them. I love Ferris Wheels. the circular motion... the mechanics... they're like collections of elegant formulas.
N is the only team leader who keeps his Japanese name.