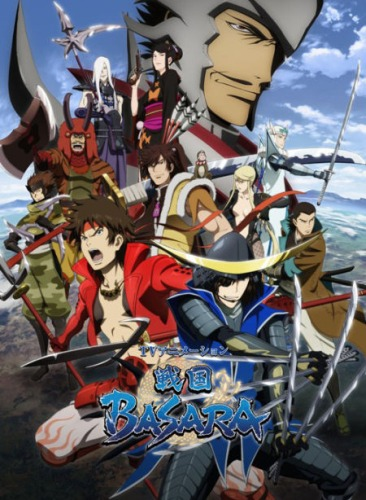 Sengoku BASARA (戦国BASARA) is a video game.
The anime series started it's broadcast on Japan's Central Broadcasting Company (CBC) in April 2009, and other networks broadcast the episodes within a few days, including TBS, MBS, and Animax. Its first season made its North American television debut on the FUNimation Channel on November 16, 2010. The opening theme song was "JAP" by Abingdon Boys School and its ending song is "Break & Peace" by Dustz. Pony Canyon released the first DVD volume on July 1, 2009.
The series' second season, titled Sengoku Basara II, began broadcast in July 2010. Its opening song is "Sword Summit" by T.M. Revolution and its ending songs are "El Dorado" and "Fate" by Angelo. The upcoming trailer for the movie version, entitled Sengoku Basara: The Last Party, released in 4 June 2011.
The anime is now on its Third Season.
History
Sengoku BASARA is a game series made by Capcom in 2005. It is produced by Hiroyuki Kobayashi, he is also very famous for his Devil May Cry series. Up until now there are 6 games that have been released. The newest game is Sengoku BASARA: Chronicle Heroes. and soon to come Sengoku BASARA 3 Utage. Unlike Sengoku BASARA: Samurai Heroes it will only released in Japan like Sengoku Basara 2, Sengoku Basara 2 heroes, Sengoku Basara X and Sengoku Basara: Chronicle Heroes.
The anime is somewhat based on the video game series which was aired in Spring 2009. The series have amassed many fans due to the stylish moves used by the characters, as well as their appearances which are designed by Makoto Tsuchibayashi, who also did the Devil May Cry anime designs.
The Plot
Sengoku BASARA is during Japan's turn point in histroy, the time of Feudel Japan. Prepare to immerse yourself into the most gritty battles and the greatest glories of this time period; all in Sengoku BASARA's hack and slash, fast-actioned style!
You will meet famous Japanese warriors; from the energetic and loyal Sanada Yukimura to the powerful Honda Tadakatsu. You might even be less fortunate and stummble across the evil and cunning Oda Nobunaga or the wild and blood thirsty Akechi Mitsuhide.
Welcome to the war of your lifetime!
Main Characters
Characters Gallery
Main article: Sengoku BASARA Series/Gallery
Videos
External Links
Anime Series

-

-

-

-


-

-

-

-

-

-