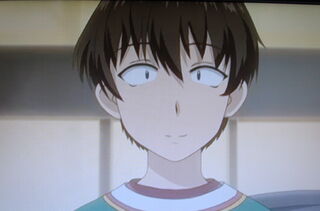 Kagura Yuuji is the male lead of the ani-manga series Tona-Gura!. After a ten-year absence, he and younger sister Marie return to live in a house next door to their childhood friends Arisaka Kazuki and her older sister Hatsune.
However he acted as a young boy, the Yuuji who returns is a bit overbearing and obnoxious, and grabby with all the girls he encounters, most especially Kazuki, who, to her chagrin, eventually finds herself the only recipient of this kind of attention. Even more astonishing to those who once knew them, little Marie has been trained and entrusted by their absent father to use paint-ball loaded assault weapons to keep her hormonal brother in line. In his sincere if badly misguided efforts to win Kazuki, Yuuji finds he has an ally in Hatsune.
From the start, it is shown that Yuuji is more than just a walking groping machine, which makes his seeming reversion to this all the more frustrating for Kazuki, who remembers a young gentleman ten years back. Yuuji for example protests his label as pervert, arguing that only by coming on strong can he make friends, as their father's frequent moves force him and Marie to constantly relocate. He even demonstrates that he 'gets it' just a bit when he affects an alternate persona, kind and gentle, who draws girls in like a magnet, only to see them vanish when he resumes his true self, frustrated that it takes a phony him to even get their attention, even absent the problems his behavior can cause. Oddly, once it truly sinks in (this can take a very long time) that Kazuki does not like this or that specific behavior, he will change it and even apologize. The problem comes that he takes even longer to realize that it is a whole pattern of behavior and actions he must change. To be fair, Kazuki's doubts about her looks and indecisiveness about exactly what she wants from Yuuji can also throw him off. He does listen to advice, if he is open and clever enough to take it and use it correctly--this is not always the case. Besides his would-be relationship with Kazuki, he one time listens to advice to pay some attention to his little sister, whose violent preventative actions are partly bound up in a desire to once again be the only girl in his life, as she was before he hit puberty. However, once again, the larger lesson eludes him.
His hormonal behavior aside, Yuuji is tremendously loyal to his family and friends, and can compartmentalize his way of doing things accordingly. When Kazuki needed confidence to complete her swim team training at school, he stood by her as her childhood friend (though comments about her swimsuit and attempts at grabbing her were perhaps inevitable). Though he very much notices Hatsune's beauty, especially her bustiness, he is apt to treat her as an older sister, if not a mother figure. He is very protective of Marie's tender feelings on having to constantly relocate, and chides her when she seems set to attack anyone else, reminding that their father only gave permission for him to be punished. If Suzuharu Chihaya, Kazuki's best friend, offers him advice on approaching Kazuki, he will listen in deadly earnest, even if the ultimate results are mixed at best. The young rich girl Isokawa Nina is overdeveloped chest-wise for her age, but that age means that Yuuji takes pains to treat the girl as a little girl, well beyond the call of his hormones, and this despite Nina having an immense crush on him that a true pervert could in theory abuse.
Yuuji's main problem in life is that many times, he simply doesn't get it, and individual pieces of advice don't always come together in his mind to make a collective breakthrough. On the other hand, his determination and stubbornness can also serve him well. When his father's former photography student, Tojo Haya, needed an assistant for her business, Yuuji took the job to learn what he had yet to gain in order to become a professional photographer. The ladies in his life find the bipolar Haya hard to take, disagree with her critique of his photos (which they like just fine) and feel she subjects him to work conditions and terms of employment that go to the abusive. Yuuji for his part regards all this as part of the price he must pay to pursue his dream.
In the anime, Yuuji backs off from his behavior to such an extreme that it throws off the entire group dynamic, from a flustered Kazuki to a Marie worried that she now had no place in her brother's life. He and Kazuki agree to start purusing a relationship, with her accepting some physical atttention and him behaving more like her definition of a gentleman. The stay of the Kagura siblings is lengthened at the end by the extended absence of the two families' parents.
In the manga, Yuuji makes a huge breakthrough when he is made to realize that his grabbiness, while based in his attraction to Kazuki, is not making her aware of how he really feels. Stating outright that she is pretty and he likes her, he is for his troubles struck by the unconfident Kazuki, who sometimes doesn't take compliments well. But shortly after, the two begin a relationship, the only obstacle being Yuuji's job as a photography assistant and the demands of his ultimately kind but frustrating boss Tojo Haya.
Scanlations for this series have not yet completed, so the final outcome is unknown. (5/20/2011)